Electrostatic Corona Separator
Electrostatic corona separators are mainly used for the separation of metals and non-metals. For example, they are used to separate copper wires and shredding from cable scraps, or separate electronic component scraps into metals and non-metals.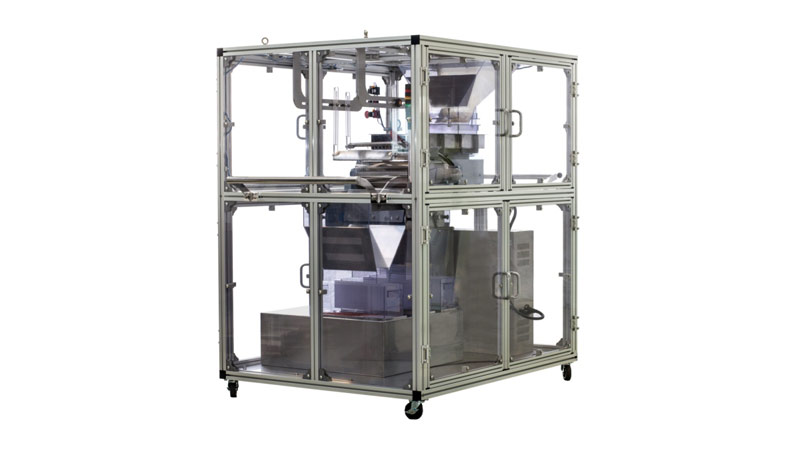 Electrostatic Corona Separator Model: ESCI (Active Width: 1500mm Three-stage type)
Made it possible to separate the fine-grained metals and non-metals!
Usage・Condition of use
mechanism
Catalog
<Usage>
1. Recovery of copper and aluminum from shredded materials.
2. Recovery of aluminum and copper from minerals.
3. Separation of zirconium, rutile, ilmenite, tungsten, etc., from minerals.
4. Separation of resins and laminate metals.
<Condition of use>
1. Applicable grain size of 0.1 to 5 mm.
2. Since humidity affects the separation efficiency to a considerable degree, generally the ESCI should be used on dry materials at an ambient humidity of 50% or less.
<Principle of Separator Operation>
Raw materials are fed evenly to the rotating drum connected to the earth ground. The raw materials then pass the electrostatic corona electrode to electric field to be charged. After electro charged, loose their charge based on their conductivity. Good conductive material separate from the drum quickly, while poor conductive materials remain attached to the drum's surface until rubber scrapers peel it off. Multiple stacks of separators will increase the effectiveness.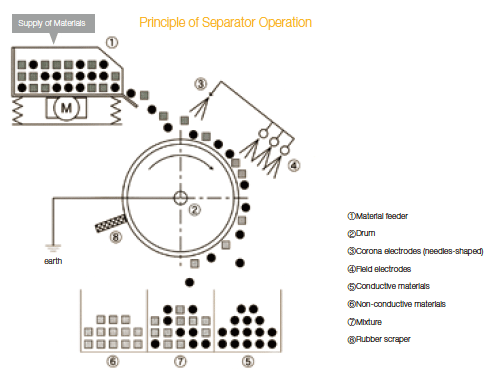 ※Download pdf by clicking on the title.
Catalog download